Across Pearson, we have, for some years, been investing in online activities that play a significant part in our business operations and are reflected in both our profit and loss account and our cash flow. These online activities are so integral to all our businesses that it is difficult to identify the revenues they generate with any sort of precision. However, looking at all our online activities, we can identify three broad revenue streams:
online delivery : Pearson Education, through the Computer Curriculum Corporation and Electronic Education businesses, and the Financial Times Group, through its FTID operations, deliver content and services exclusively online. In 1999, these products made sales of around £90m.
online channels : In both the Penguin Group and Pearson Education, the internet is an increasingly important sales channel through which we sell our books. In 1999, we made sales of around £50m through online channels.
online/text products : Pearson Education is investing heavily to continue to integrate its text- books with password protected companion web sites, which are sold as bundled web/text products. In 1999, these products generated sales of around £375m.
We are also stepping up investment in developing new internet enterprises which capitalise on the power of our brands and content and generate additional and distinct online revenue streams.
At this stage, we are investing primarily in the following areas: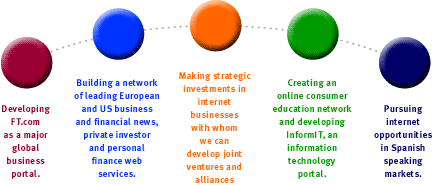 These internet enterprises combine the opportunity for very high growth with above average business risk, which sets them apart from our established media operations. They also meet our twin tests of scale and separability, in that they have the scale to justify separation and it is practically possible to separate their revenues from those of print or television-based counterparts. Here, we are setting out, for the first time, how we plan to approach their funding, investment appraisal and financial reporting.
funding : Last year's sharp reduction in the debt we took on to finance the Simon & Schuster acquisition means we could finance the next stage of the development of these internet enterprises from our existing financial resources. However, in view of the growth and risk characteristics of these enterprises, we decided to finance their development through the issue of risk capital, or equity. We considered seriously the possibility of creating a separate equity security to track the performance of these businesses but decided that this would be complex and potentially divisive. Instead, in January 2000, we raised £250m through the issue of 11.5 million shares at a price of 2200p per share. At this stage, £250m is enough to finance the development of our internet enterprises although we will accelerate this investment if we conclude that the extra spending is justified by the eventual returns. The pace at which we will invest this £250m is difficult to predict. Markets for internet products and services are changing rapidly and require a flexible response, with financial commitments being scaled up and down according to need. In some cases, we can form partnerships which capitalise on our brands, content and ownership of advertising media (which has great appeal to internet companies) to achieve some of our internet goals without using our cash. In whatever currency, we will continue to increase organic investment in our own internet enterprises. For example, this year we are investing in major marketing campaigns to promote FT.com in both the United States and Europe. We are also taking equity stakes in, and forming strategic alliances with, internet companies which will help us to accelerate the development of our internet enterprises. For example, in the first three months of this year, we have invested in strategic stakes in several online information and education companies to further our aim to be a substantial online consumer education force.
investment appraisal : We are, of course, taking a rigorous approach as to how we invest in these internet enterprises. As far as we can, we aim to apply the disciplines of the venture capital community, combining a rigorous approach to financial appraisal with speed and flexibility in execution.
We have formed a small internet appraisal group, led by the chief executive and the finance director, which analyses and approves each investment proposal. Before the initial funding of a business plan is approved, key performance indicators (typically related to revenue growth and traffic) are agreed and targets are set which relate to those indicators. Only as the milestones corresponding to each target are achieved does the appraisal group approve the release of additional funds to carry the project forward to the next milestone date. The appraisal group monitors the performance of each key project at least once a month and also approves all external equity investments. We will report the progress of each of our main internet enterprises against their targets on a regular basis.


financial reporting : We will report on the financial performance of our internet enterprises as a separate item within our operating profits. This provides shareholders with greater financial transparency and the opportunity, should they choose, to apply the appropriate valuation yardsticks to businesses with very different financial profiles. In 1999, these internet enterprises, of which much the largest was FT.com, generated revenues of £7m and operating losses of £39m. We expect both revenues and operating losses to rise in 2000 as we accelerate investment in a growing number of internet enterprises.
The scale and inherent unpredictability of our investment in internet enterprises makes the task of forecasting our total adjusted earnings, and with that our dividend, a good deal more complicated. We are reluctant, however, to sacrifice our commitment to double-digit growth in adjusted earnings per share. Pearson first made this pledge in 1997 and has since achieved it every year. It is a good discipline and the target has had a powerful motivating effect right across the company.
So from 1999, we are reporting adjusted earnings per share both before and after internet enterprises. From 2000 onwards, our commitment to annual double-digit growth will apply to adjusted earnings per share before internet enterprises. We also plan to peg our dividend payments to this measure of earnings. Dividend policy is discussed in more detail in the Financial Policy section.