In 1999, Pearson's sales grew from £2,395m to £3,332m and operating profit, before goodwill, internet enterprises and other items, grew from £389m to £588m. Pre-tax profits, before goodwill, exceptional and non-operating items, grew from £350m to £402m. The major factor driving such a big increase in sales and operating profits was Pearson Education, which enjoyed the benefits of the first full year contribution from the Simon & Schuster businesses, acquired in November the previous year. As a result, its sales increased by 146% to £1,725m and operating profits increased from £99m to £257m. Profits at the FT Group rose by 27%, reflecting a strong underlying performance by our business newspapers and the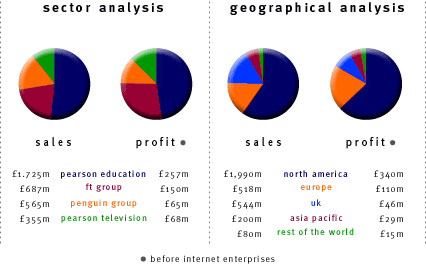 benefits ofthe acquisition, in the latter part of the year, of Thomson Financial Securities Management (TFSM). The Penguin Group increased profits to £65m, an underlying increase of 23%. It benefited from a strong list of bestselling authors and steps taken the previous year to put the supply side of the business on a stronger commercial footing. Pearson Television increased its profits by 11%, thanks, in part, to a halving of the start up losses arising from our investment in Channel 5.

We continued to dispose of businesses that lacked market scale and passive investments which brought us no strategic value. In the FT Group we sold a number of magazine and newsletter operations, the Extel research products business and Les Echos medical publishing division. Following the merger of Simon & Schuster and Addison Wesley Longman, we sold the Macmillan General and Library Reference, Jossey-Bass, Appleton & Lange, Master Data Center, and the Bureau of Business Practice businesses and some higher education titles. These disposals raised a total of £209m. We completed the sale of our 4% indirect stake in BSkyB for £408m. In total, we realised £700m from disposals during the year. We have now completed the sale of our stakes in the three Lazard houses for £436m in total, bringing the amount raised by our diposal programme since 1997 to £2.4bn.
We invested in businesses where we see good opportunities for growth. Financial Times Interactive Date (FTID) acquired TFSM for $150m and we subsequently merged FTID with the Data Broadcasting Corporation (DBC).
The full impact of the Simon & Schuster acquisition can be seen in the analysis of how and where we made our sales and profits. Pearson Education generated over 50% of sales and contributed 48% of our profits. We made 60% of our sales and 63% of operating profits in North America. In 1999, we benefited from a positive exchange rate impact on profits of £5m and £33m on sales. Stripping out the impact of portfolio changes and exchange rates, underlying sales increased by 7.3%.