: profile :
In a world of free capital, falling trade barriers and a dynamic new economy, demand for independent, authoritative international business and financial news, data and analysis is greater than ever. The Financial Times Group aims to be the leading source of strategic information, intelligence and context for senior managers and institutional and individual investors around the world.
The Financial Times, an integrated print and online operation, aims to give greater insight into global business events than any other news organisation. The Financial Times newspaper, printed in 14 cities around the world, has a more international and faster growing readership than any other business newspaper. FT.com (www.FT.com) is the world's leading global business information portal. It combines agenda-setting editorial content with comment and analysis, relevant financial data, discussion groups, unique dossiers on key business people and a new range of tools to search the web, manage a working day and seek out leisure opportunities.
In tandem with the Financial Times, we are building a pan-European network of national business newspapers and online services. Groupe Les Echos (www.lesechos.fr) publishes France's leading business and financial newspaper and website. Recolétos publishes Expansión (www.expansiondirecto.com), Spain's leading business and financial newspaper and website, and has a 50% stake in its Portuguese counterpart. Financial Times Deutschland (www.ftd.de), published in partnership with Gruner + Jahr, is a new German language business newspaper with a fully integrated online business news and data service.
We own a 60% stake in the new business created by the merger of FTID (www.interactivedata.com) and DBC (www.dbc.com). It is one of the world's leading sources of securities pricing and specialist financial information to global institutional, professional and individual investors. Its new products include eSignal (www.esignal.com), an online real-time streaming quotation service for brokers and active traders. It also has a 32% stake in MarketWatch.com. whose web properties (www.cbs.marketwatch.com and www.bigcharts.com) are the most popular destinations for financial and market news on the web. This year, in a joint venture with MarketWatch.com, we will launch Financial Times MarketWatch.com, which will provide free, fast, incisive, real-time financial and market news to Europe's rapidly growing communities of private investors. We also operate FTyourmoney.com (www.FTyourmoney.com), a leading source of independent personal finance information. Financial Times Business (www.FTbusiness.com) produces specialist information on the energy and finance industries. FTSE International (www.FTSE.com), a joint venture with the London Stock Exchange, provides the professional investment community with the leading UK indices and, together with the Amsterdam Stock Exchange, publishes the Eurotop family of indices. We also have 50% stakes in BDFM (www.bdfm.co.za), publishers of South Africa's leading financial newspapers and website and The Economist Group (www.economist.com), which publishes the world's leading weekly business and current affairs journal.
: performance :
In 1999, we increased substantially the revenues and profits of our business newspapers – and invested heavily in electronic and international expansion. We transformed the prospects of FTID, our specialist financial information business, through the acquisition of TFSM and the subsequent merger with DBC. And, to focus on our goal of creating the world's leading business and financial information brand, we disposed of a number of marginal businesses. Stripping out the impact of these exceptional factors, underlying revenue growth was up 13%. Operating profits increased 27% to £150m.
Our business newspapers had an excellent year, increasing circulation and advertising yields and working together on a number of new pan-European projects. The Financial Times newspaper posted another year of record growth with profits up 33% to £56m. In December 1999, average daily circulation topped 435,000, up 14% on 1998. In the US, ahead of the opening of new print sites in Boston and San Francisco, we reached our circulation milestone of 100,000 daily sales, some two years earlier than initially expected. In continental Europe, we are selling, on average, 120,000 copies per day, a 20% increase on last year. And, following an autumn revamp, UK sales are growing at 7%, their fastest rate for a decade. Such strong worldwide circulation and a buoyant global economy enabled the Financial Times newspaper to increase advertising revenues by 19%.

Groupe Les Echos, taking account of the sale of its medical publishing division, increased underlying sales by 24% and increased profits by 80% to £18m. Newspaper circulation increased by 7% to a record 143,000 and advertising revenues increased by 41%. Expansión, capitalising on a 22% increase in circulation the previous year and a strong Spanish economy, increased advertising revenues by 44%. Circulation grew to a new high of 59,700.
During the year, we planned the launch of Financial Times Deutschland, which aims to capitalise both on the explosive growth in demand in Germany for business information and analysis and a strong advertising climate. We set in motion our plans to increase the market reach of Economica, publisher of Portugal's leading daily financial and business newspaper.
Our integrated network of finance and business websites grew rapidly during the year, trebling advertising and e-commerce revenues. FT.com is attracting new users rapidly, with over one million unique monthly visitors and 22 million monthly page views. In March 2000, with FT.com now transformed into a global business portal, we launched its first major US marketing campaign. During the year, lesechos.fr and expansiondirecto.com both more than doubled traffic and are now firmly established as the leading business and financial news websites in France and Spain. In its first three months of operation, FTyourmoney.com is already establishing itself as the UK's leading personal finance website and is ahead of its revenue and traffic growth targets. FTMarketWatch.com, our pan-European joint venture with MarketWatch.com, will launch in June. We plan to launch French, Spanish and German language versions of these sites in the coming year.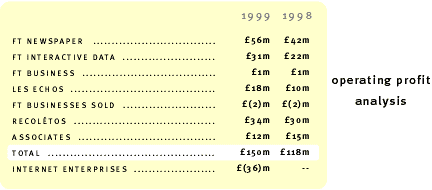 FTID delivered another year of double-digit growth and, through its acquisition of TFSM and subsequent merger with DBC, is now able to develop a much wider range of internet delivered products to every sector of the global money management community. At FT Business, we have now sold the marginal newsletters and management reports operations, enabling us to focus on market leading positions in specialist energy and finance titles and research products.
The profits contribution from Associates reflects our share of the start up costs of Financial Times Deutschland. The Economist Group, in which we have a 50% stake, had another record year, with The Economist newspaper increasing average weekly circulation by 4% to 723,000. It continued to focus on developing its global media brands and increasing investment in the electronic delivery of its products and services. Business Day and Financial Mail, the South African finance and business publisher, in which we also own a 50% stake, grew advertising revenues to record levels.

Across the Group, we are investing in an international network of newspapers and online services, built around the Financial Times brand, that aims to be the premier source of financial and business information, comment and analysis around the world.